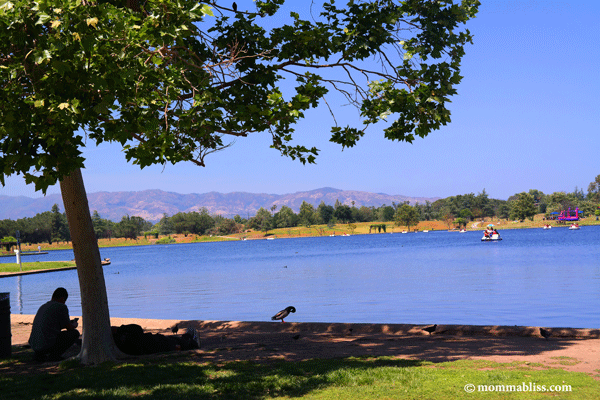 If you are looking for a great park for kids or anyone else in the Los Angeles area, you've stopped at the right place.  I discovered Lake Balboa/Anthony C. Beilenson Park in Van Nuys, California years ago, but I only went once and had a vague recollection of what it was like.  I decided to re-visit the park when I became a mom, because I began seeking out different parks to get a change of scenery from the parks in my area.  I think it's kind of fun to travel around the area and see what's out there.  
Lake Balboa Park is a very large park, with trails for walking, jogging and biking.  The park has a lake (fishing is allowed), tons of picinic areas, two large playgrounds that accommodate small kids and big kids, tennis courts, and a golf course.  So I'll cut to the chase, I absolutely love this park.  Here are my favorite aspects of the park:
1.       Playground Area –  The playground has two large play areas.
a.        The first play area is for kids around five and up.  I love the layout of this area because it's long, so your child can run across the bridges and go up and down the slides easily.  There are large shade structures over the play area that keep kids cool in the hot Valley heat.  Also the area is pretty spreadout and large, so when there is a lot of people it's not hard to keep track of your child amongst all the other kids.  I've been to other parks with bad layouts and it's not fun to briefly lose track of your child and have to search hard through the sea of kids to find them. View photos of the first play area below: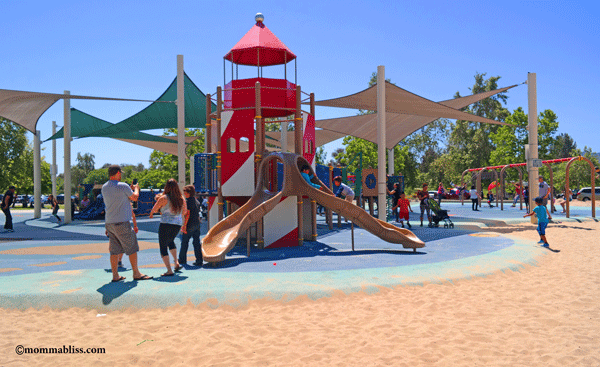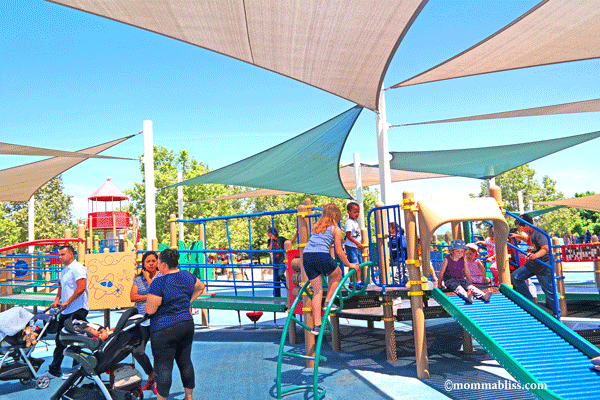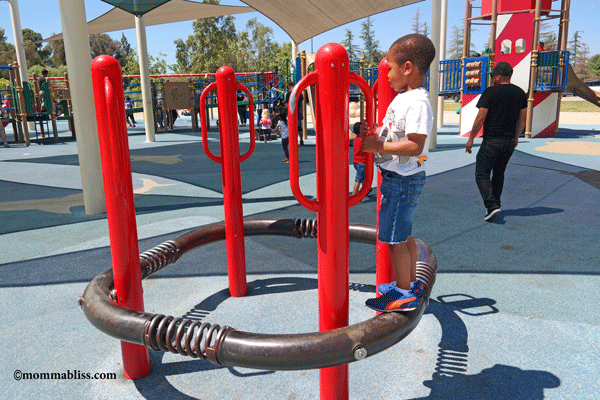 b.       The second play area is for smaller kids, zero to five, is probably the target group.  The slides are low for small children and there's a pretend sea fish with a slide inside that kids absolutely enjoy.  The great feature about this area is that there is plenty of seating with trees for shade close by, so it's easy to keep an eye on your kiddos. There is also a sea activity center next to this area.  View photos of the second play area below: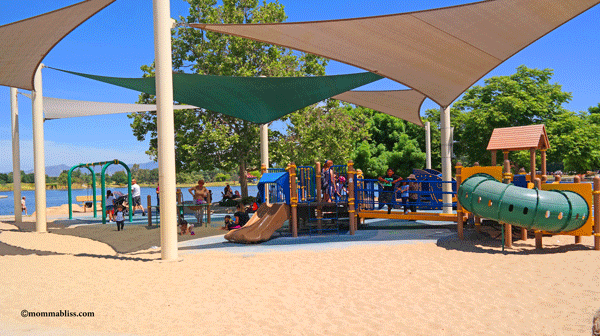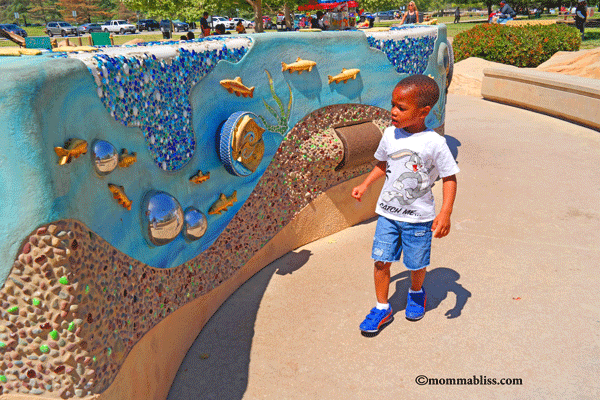 2.        Lake –  The lake is the best feature of this park for me.  The wildlife the lake attracts is amazing.  There are large geese, ducks, swans, turtles, and fish.  The lake has areas for fishing, motorized toy boats, and they have paddle boat rentals.  There are a lot of picnic areas around the lake and people even rent bounce houses and have them set up for parties around the park.  There's also a waterfall and a stream that has a bridge over it.  View photos of the lake area below: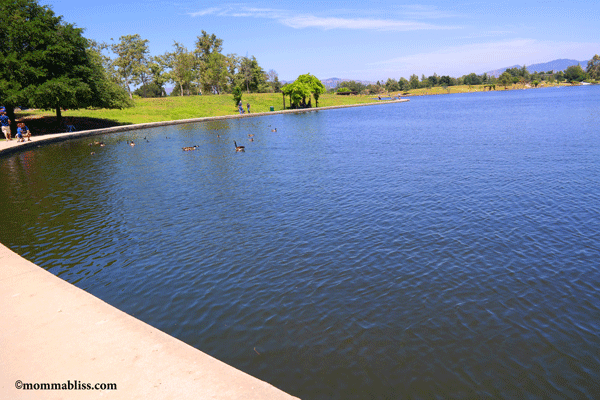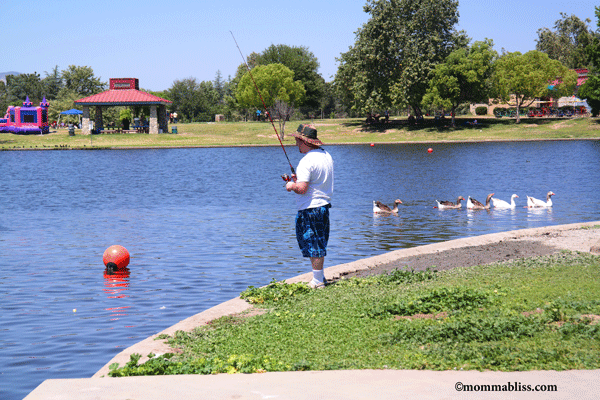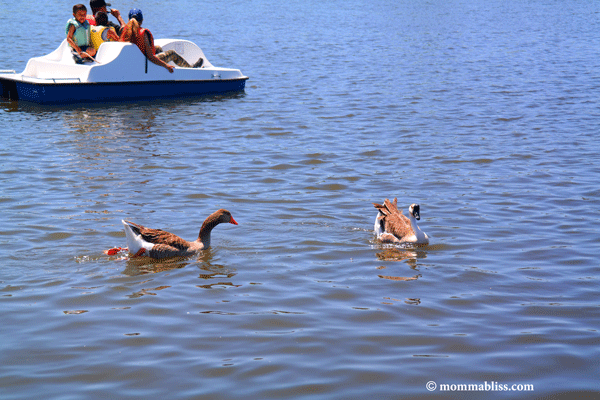 3.       Trails and Paths – This park has an endless amount of trails and paths and is very dog friendly.  The area is great for cycling, skating, jogging or walking for exercise.  They also have bike rentals at a reasonable price.  View a photo of a path near the lake below: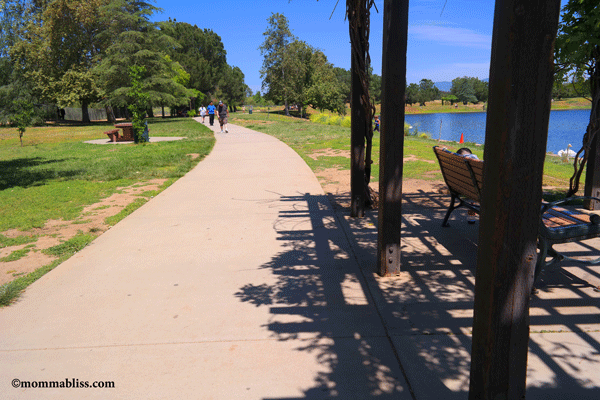 4.       Ample Parking –  There's a lot of free available parking at this park, including lots and parking spots in the main areas.  I've been on busy weekends and have always found a place to park. 
5.       Great Vibe –  The most important part about this park is there is really great energy there.  The people are friendly, there are a lot of trees and park benches around to sit and relax.  The overall feel of this park is exhilarating.
Overall, this is absolutely one of my favorite parks in the Los Angeles area.  It's great for large and small family gatherings or to hangout by yourself with the dog.  My son also really enjoys this park, typically when we go, he plays at the playground for awhile, then we walk around the lake and stop frequently to enjoy the sights and sounds of the birds.  We also like to watch the turtles swim around in the water.  So if you are in the area, this is definitely a great place to visit. 
Check out more park photos below: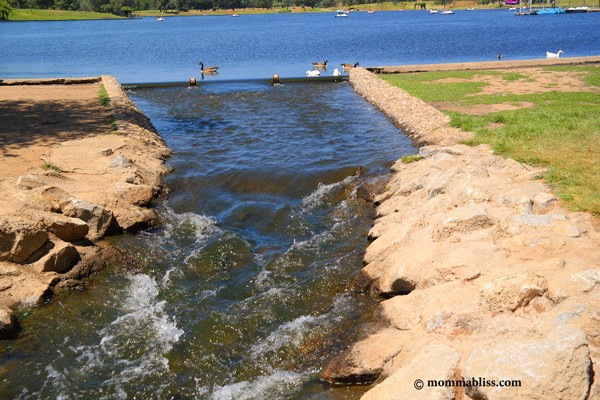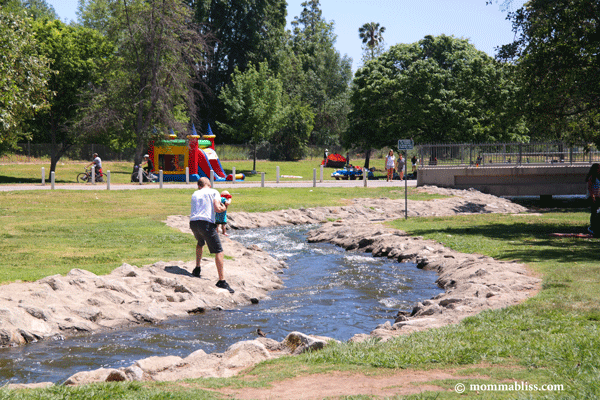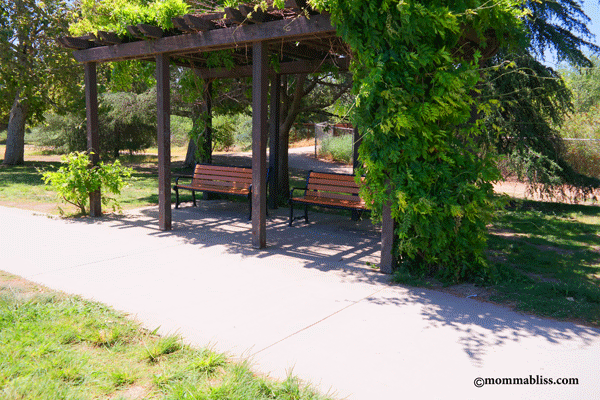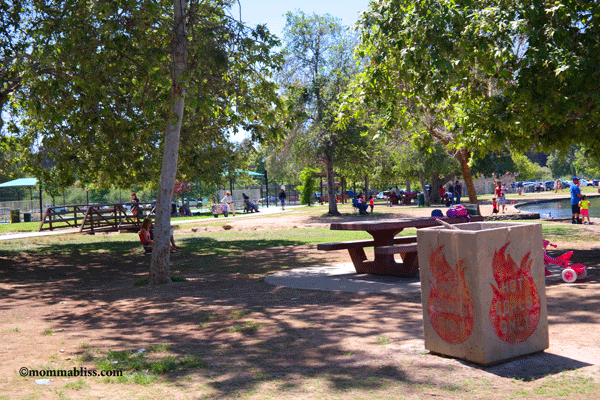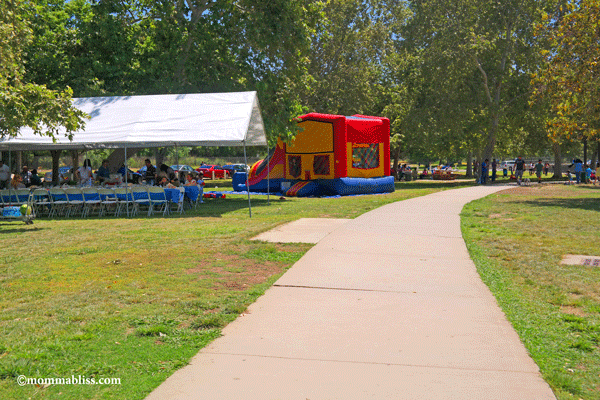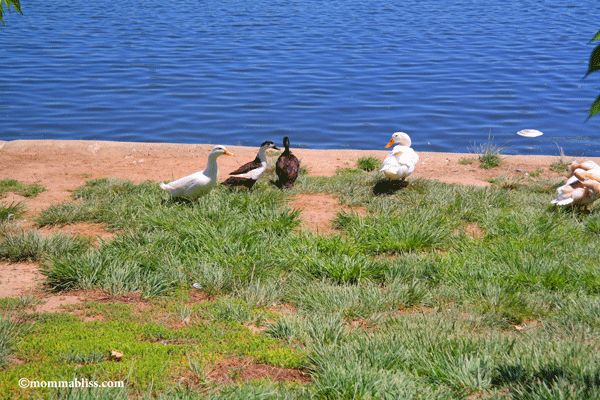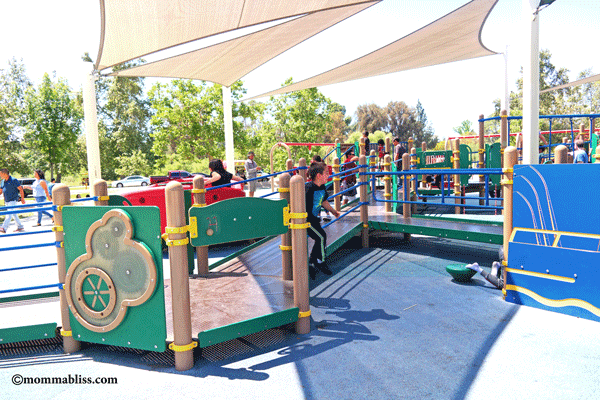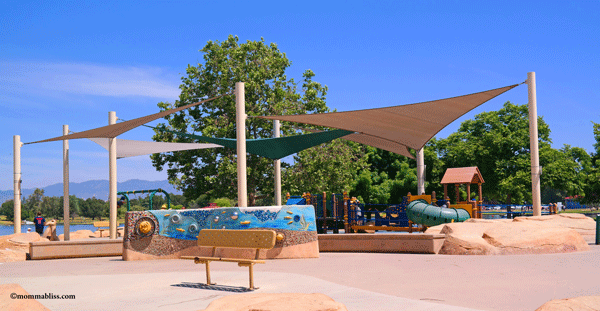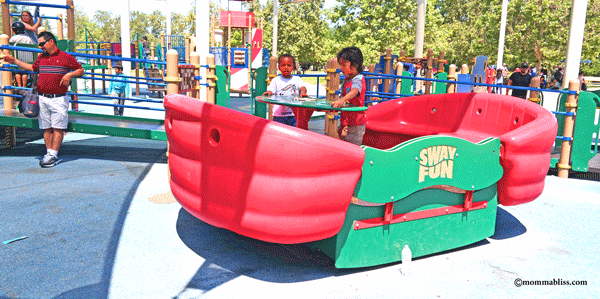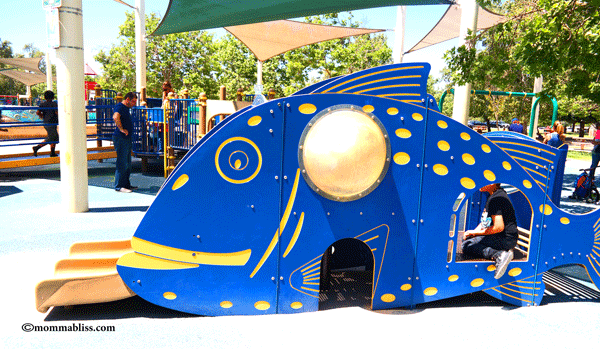 Follow me on Instagram at https://www.instagram.com/mommablissofficial
Follow me on Twitter at https://www.twitter.com/mommablissblog
Follow me on Facebook at https://www.facebook.com/mommablissofficial
Copyright @ www.mommabliss.com 2017