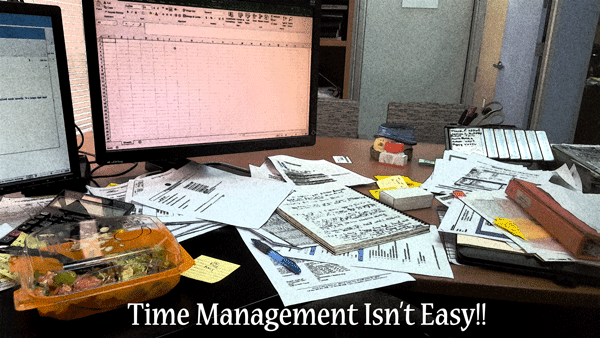 Being a busy mom, I often struggle to manage everything I am required to do, with what I want to do.  Some weeks I'm super productive and other weeks I fail miserably.  This topic came to mind just as I finished a cleaning marathon, which often occurs after I have fallen off the wagon and am at my wits end in clutter.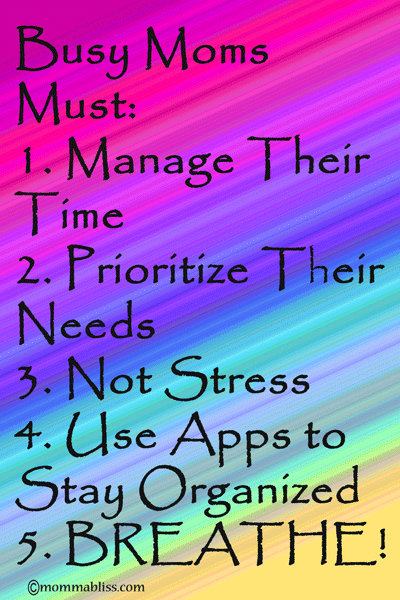 I find as moms, we often have a long list of items that we have to get done like laundry, cleaning, shopping, kid's activities/appointments and a short list of things we want to do for ourselves, like have lunch with a friend, get a massage, or start a blog, that hardly ever gets done.  The key to managing your must do list with your list of wants is to manage your time wisely, most of the time.  In addition, it's important as moms to make yourself a priority on your to-do list.  
All too often, we neglect our desires and sacrifice ourselves for our kids and significant others.  This is a terrible thing to do because it often leaves us bitter exhausted and not that fun to be around.  Therefore, it's important to add yourself to your to your to-do list and set a reasonable list of goals that you want to accomplish. Then you must insist that you knock off items on your list that are for you, with as much persistence as you put into accomplishing your regular family goals and tasks.
I find that keeping a list of goals and things I need to do in my cellphone is the best way for me to be productive.  As a busy working mom, my cellphone is my lifeline for remembering everything I need to accomplish during the week.  I think many people don't use their cellphone to its fullest capability and that little device has a lot of power because it can organize your life. 
I want to share with you the apps that keep me organized.  Here's how I manage my life through cellphone applications (android):
1.       Samsung Calendar –  I love this app, because I can use it to keep track of my son's lessons, playdates, school activities, appointments, and birthday party invites.  It also has the ability to add tasks that I need to accomplish.  The best part is that you can set multiple reminders far in advance or close to the date and time of the event.  Another added feature is that you can share events on various platforms like social media, email and text messaging.
2.       Google Keep – This app is great because it's basically a notepad.  I use it to keep shopping lists by store.  I create shopping lists and use the name of the store as the title.  The cool feature for the list function is that you can check off the items you put in your cart when you're at the store and it app doesn't delete it, it just moves it to the bottom.  Then when you want to use that list again and need to repurchase items previously checked you just go through and uncheck the item.  This works great for household items that you repurchase weekly or monthly.  Additionally, I use this to take notes for things I need to do, like call a friend or pick up my dry cleaning.   The app also allows you to mark an item to send you a reminder on a particular day and time.    
3.       Clean House –  This app I use to keep a cleaning schedule.  This app allows you to create cleaning tasks, then you put in how often you want to do that item, the app then sends you reminders that an item needs to be done.  I like that I can see when was the last time I mopped the floor or cleaned the toilets.  I also like that I can go to this app when I have free time and see what cleaning items need to be done and it allows me to get things done without putting a lot of thought into it.   For example, today I looked on my list and saw it's been a couple months since I cleaned the mirrors in the bathrooms, so I made sure I completed that task.   There are a lot of cleaning apps out there on both android and IOS, so use them.
4.       Evernote –  I use this app to organize my blog ideas and my other creative ideas.  This is a great app because you can type long documents and store ideas.  It is similar to Google Keep but I like to keep my blog work and creative ideas separate from my household management stuff.  Thus, this app allows me to separate the two and it's password protected.  Also, I can access my data from a desktop as well, which makes it easier to transfer content to Microsoft Word or Excel for further development.
The most important part of being organized as a mom, is to not give up.  Often times, we get tired and just beat down from all the things we are required to do in any given week.  We need to remember that we are not alone and that the struggle is real. 
The main thing is that you keep trying, even though you know you will fail many times and you will have to pull it together over and over again.  It's normal mom business, but the beauty is that you're are not alone most moms are out there struggling just like you.  Many moms are very successful at accomplishing their goals and it's not because they're perfect or that they are not as tired as you; they are successful because despite their failures and setbacks they keep on trying.
Follow me on Instagram at https://www.instagram.com/mommablissofficial
Follow me on Twitter at https://www.twitter.com/mommablissblog
Follow me on Facebook at https://www.facebook.com/mommablissofficial
Copyright @ www.mommabliss.com 2017