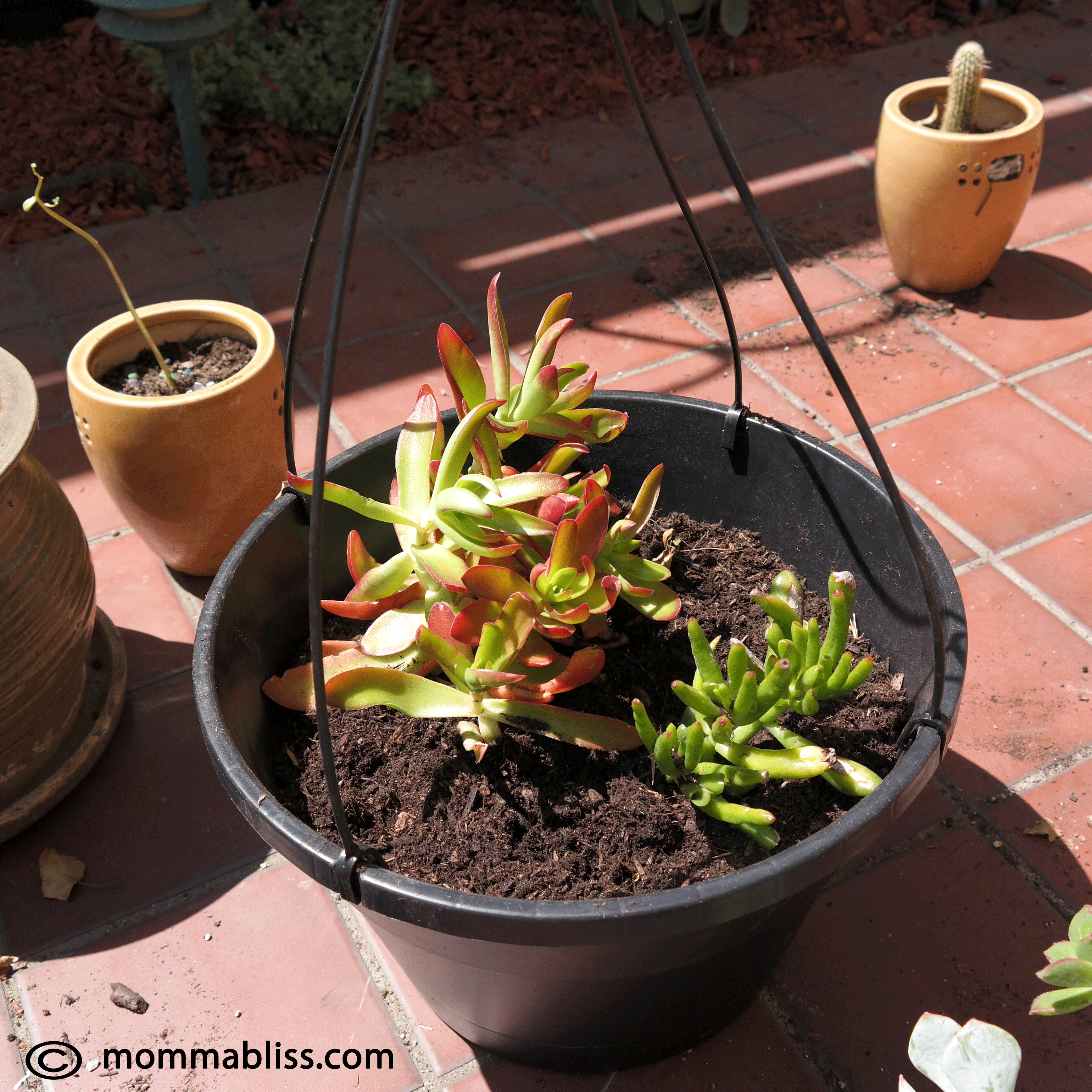 It's spring and it's time to get out there and refresh those plants in the garden or on your patio.  I have a patio that has a small strip of dirt for gardening.  Living in the Valleys of Southern California the heat is pretty unforgiving.  Last year I decided to start buying succulents due to the drought and the fact that being a busy working mom, I don't always remember to water the plants. 
At one time in my life I was a great gardener, unfortunately after giving birth I lost every memory of how to keep a plant alive and have been a plant killer for the last 3 years.  My son has also helped me kill plants by pulling off most of the leaves when he was learning to crawl and walk.  Last summer, I dug up old plants and threw succulents down, in a sink or swim kind of manner.  I figured if they survived the winter, then I could move to the next step, which was putting down mulch in the Spring.  Many of the plants that went into the ground survived the winter with very little attention from me; my hanging plants were not so lucky and I had to plant some new ones.
I come from a long line of gardeners that kept beautiful gardens, but unfortunately after I had my son I completely lost my interest and motivation for gardening.  Now he's four and can do a lot of things for himself and help me, I've regained my motivation for gardening.  So last weekend, my son helped me in the garden.  I weeded and he trimmed plants and cut things off that will likely grow back, or so I hope!  My mom didn't let me help a whole lot in the garden as a kid, however my thought is, it is never too early to learn, so I let my son do his version of helping.   I hope by letting him try he will one day be able to really help me and be happy to help because I've encouraged rather than discouraged his assistance. 
Below are tips to help refresh your garden or container plants.
1.       Get a small hand shovel and use it to dig and pull weeds.  I find using the hand shovel pulls up most of the roots to keep the weeds from growing back.
2.       Trim back plants and bushes that have overgrown during the winter.  I had a couple bushes and plants that were out of control, and I let my son cut the branches off those off of those plants. 
3.       Dig up any dead plants and get rid of any plants that you no longer like or just simply don't seem like they are worth looking at for another season. 
4.       Go to Homedepot or any gardening store you like and get some new plants, soil, and get mulch for the flower beds.  I like mulch because it keeps the soil a little moist when you fail to water, which is pretty often in my case.  Mulch is a life saver for the busy or lazy person. 
5.       Turn on some smooth jazz using your phone music app and get to work in the garden.
Here are some photos of my brilliant attempt to spruce up my patio!